Dr.(Smt.) Reshma Gills
Tel: ; Cell:
Email: reshma1818@gmail.com,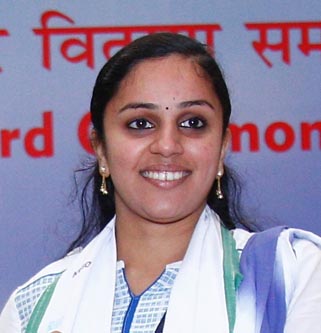 Focus of Research
:
Entrepreneurship and Value chain management

Background
:
Joined ICAR- CMFRI in the year 2018. Prior to this I was working at ICAR-IARI, New Delhi in the Division of Agricultural Extension. Worked in the area of Entrepreneurship Management, Value Chain Analysis, Impact Assessment of NARES Technologies, Construction and Validation of Measurement Tools for Social Science Research, Designing and validating innovative extension models like Krishi Dak, National Extension Programme (NEP), Innovative Farmer Led Extension and Delivery Programme (IFLED) etc. Presently working in Socio Economic Evaluation and Technology Transfer Division of CMFRI, focusing mainly on compliance analysis, gender and group dynamics in marine fisheries sector.

Education
:
Ph D (Agricultural Extension) 2015, Indian Agricultural Research Institute, New Delhi.

M Sc (Agricultural Extension) 2012, Indian Agricultural Research Institute, New Delhi.

BSc (Agriculture) 2009, Kerala Agricultural University, Thrissur.

Current Research Projects
1.
Responsible marine fisheries governance: compliance analysis and peripatetic capacity development (SEE/GOV/34)

2.
Mainstreaming the gender perspective of SHGs in
Indian fisheries sector (SEE/GOV/SUB/36)

3.
Alternate livelihood options and gender mainstreaming for entrepreneurship development in marine fisheries sector of India (SEE/GOV/ 36)
Awards & Recognitions
:
1.

Imerti Devi Outstanding Women Scientist Award

by Society for Community Mobilization for Sustainable Development in 2017



2.

Jawaharlal Nehru Award

for P.G. Outstanding Doctoral Thesis Research in Agricultural and Allied Sciences, ICAR in 2016



3.

IARI Merit Gold Medal

(Agricultural Extension) for outstanding research work in Ph. D. Programme in 2016.



4.

INSPIRE Fellowship

under the GOI's unique Scheme "Innovation in Science Pursuit for Inspired Research" in 2013.



5.

IARI Merit Gold Medal

for Outstanding Academic Performance in Master of Science Degree Programme in 2013.



6.

UGC-JRF-NET award

in 2012 in the subject of Adult Education/ Continuing Education


7. Online Editor,

Journal of Community Mobilization and Sustainable Development



Best 5 Publications
:
1.

Reshma Gills

, J P Sharma, R R Burman, R R Sharma and Amit Kar. 2016. Marketing channels, their effectiveness and perceived constraints in milk processing in NCR. Indian Journal of Animal Sciences 86 (1): 82–88

2.

Reshma Gills

, J P Sharma, R R Burman, R R Sharma and Amit Kar.2017. Peri Urban Floriculture: A comparative study of production, value addition, marketing and constraints. Indian Journal of Agricultural Sciences 87(4): 544-550

3.

Reshma Gills

, J P Sharma, R R Burman, R R Sharma and Amit Kar.2016. Comparative analysis of vegetable production, value addition and marketing in National Capital Region. Indian Journal of Horticulture 73(1): 87-93.

4.

Reshma Gills

, J P Sharma and Tulsi Bhardwaj.2015. Achieving zero hunger through zero wastage: An overview of present scenario and future reflections. Indian Journal of Agricultural Sciences 85 (9): 1127–33


5. Reshma Gills

, J P Sharma, R R Burman, R R Sharma and Amit Kar. 2017.

Constraint Analysis of Fish Processing in Peri Urban Areas of

National Capital Region

.2016. Economic Affairs, 62 (1):75-81