Dr.Anuja A.R.
Tel: ; Cell:
Email: anuja.ar@icar.gov.in, anuja.akathoottu@gmail.com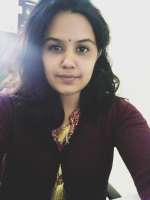 Focus of Research
:
Marketing, Value chain and policy analysis
Impact assessment

Background
:
Working as Scientist in the division of Socio-Economic Assessment and Technology Transfer, CMFRI, Kochi, since January 2021. Prior to this, I served as Scientist at the ICAR- Indian Agricultural Statistics Research Institute (IASRI), New Delhi. I did my graduation from Kerala Agricultural University and MSc and PhD (in Agricultural Economics) from the ICAR- Indian Agricultural Research Institute (IARI), New Delhi. I was also associated with the International Food Policy Research Institute (IFRPI), South Asia Office as trainee. My previous research areas include marketing, values chain analysis, impact assessment studies and policy analysis. I was also a faculty of post graduate school, ICAR- IARI.

Education
:
PhD (Agricultural Economics) 2018, Indian Agricultural Research Institute, New Delhi.
MSc (Agricultural Economics) 2012, Indian Agricultural Research Institute, New Delhi.
BSc (Agriculture) 2009, Kerala Agricultural University, Thrissur.

Current Research Projects
Socio Economic Assessment of Marine Fisheries Resources Use and Management in India
Marine Fish Distribution and Consumption Demand in India: A Policy Outlook An Inclusive Perspective of Gender Mainstreaming in Indian Fisheries Sector

Awards & Recognitions
:
R.T. Doshi award - for best research presentation - Agricultural Economics Research Association, India (2012)
DST INSPIRE Fellow (2014)
UGC NET (in Economics) with JRF (2012)
ICAR- IARI Merit medal (2012)
ICAR - Junior Research Fellowship (2010)
BSc Agriculture rank holder (2009)

Best 5 Publications
:
Anuja, A R, Anjani Kumar, Sunil Saroj and K N Singh. (2020) The impact of crop diversification towards high-value crops on economic welfare of agricultural households in eastern India. Current Science, 118(10), pp577-1582.
Anuja, A R, Amit Kar, Pramod Kumar, G K Jha, R Roy Burman, K N Singh and Shivaswamy G P. (2020). Pattern and implications of labour migration on technical efficiency of farm households: A study in Bundelkhand region of central India. Indian Journal of Agricultural Sciences, 90 (10), pp 1877–82.
Anuja, A. R., Amit, K. Mathur, V. C. and Jha, G.K. (2012). Input Delivery, Processing and Marketing of Natural Rubber: The Role of Producers' Cooperatives in Kerala. Agricultural Economics Research Review, 25,pp 379-386.
Anuja, A. R., Amit, K., Jha G.K., Kumar R. (2013) Price Dynamics and Market Integration of Natural Rubber under Major Trade Regimes of India and Abroad. Indian Journal of Agricultural Sciences, 83(5), pp 555-560.
G P Shivaswamy, K J Raghavendra, A R Anuja, K N Singh. Rajesh T and Harish Kumar H V. (2020). Impact of institutional credit on agricultural productivity in India: A time series analysis, Indian Journal of Agricultural Sciences, 90 (2), pp 412–7.