Dr.Ramachandran C
Tel: +91 484 2346362; Cell:
Email: ramchandrancnair@gmail.com,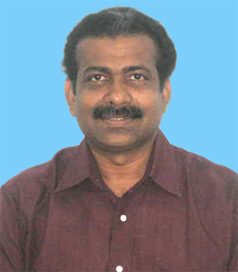 Focus of Research
:
Responsible Fisheries Extension
Fisheries Policy
Gender
Background
:
A PhD from IARI, New Delhi I joined CMFRI in 2000 after a three year stint in CRIDA, Hyderabad. My transition from "dry lands" to "deep seas" has been facilitated by an NFP sponsored Wageningen based-IAC training programme in 2002 and the continuing support from my colleagues and fisherfolk. I am passionately involved in the field of Responsible Fisheries Extension which has been quite rewarding, though off late I find addressing the issues of the "tropical water epistemological disconnect" a bit frustrating. I have research interests in gender issues, fisheries & fisheries research policy and innovation systems too.
Education
:
PhD 1997 Indian Agricultural Research Institute(IARI), New Delhi
MSc 1992 Agricultural Extension, Kerala Agricultural University (KAU)
BSc 1988 Agriculture, Kerala Agricultural University (KAU)
Current Research Projects
| | | |
| --- | --- | --- |
| No | Title | Funded By |
| 1 | Capacity development for Ecosystem based Responsible Fisheries Management in India-A Co-learning approach (FISHCMFRISIL 201202200022) | CMFRI |
| 2 | Economics of marine fisheries and sustainable management: Policy Issues and Interventions (FISHCMFRISIL 201202200020) | CMFRI |
| 3 | A Value Chain on Oceanic Tuna Fisheries in Lakshadweep Seas | ICAR |
Awards & Recognitions
:
NFP fellowship to undertake a 41 day short course at IAC, Wageningen , the Netherlands(2002)
Yamamoto price of JIFRS and presented at IIFET Conference, University of Ports mouth,UK for contributions in Responsible Fisheries ( 2006)
Best paper award , 2nd Global Symposium on Gender and Fisheries( 2007)
Member , International evaluation study on FAO CCRF ( 2011)
Best 5 Publications
:
1. RamachandranC. 2006. Teaching to Fish or Learning Not to Finish? - Reinventing a Responsible Marine Fisheries Extension system In India. IIFET 2006 Portsmouth JIFRS Yamamoto Prize winning Paper .Journal of International Fisheries 7(1-2):93-108.
2. Ramachnadran.C.2002. Utharavadithva para matsyabandhana perumatta chattaom (FAO Code of Conduct for Responsible Fisheries translated into Malayalam). CMFRI in Collaboration with FAO , Rome.Pp.57.
3. Ramachandran,C. and Sathiadhas ,R.2006. Marine resource conservation and management through a traditional community –based Institution-Case of Kadakkody(sea court) in Malabar coast of India. J. Mar.Biol. Ass. India.48(1):76-82.
4. Meryl Williams, Miriam Balgos, Ramachandran C, John Hambrey, Carlos Alberto Lima dos Santos , Victor Pouomogne 2012. Evaluation of FAO's support to the implementation of the Code of Conduct for Responsible Fisheries, Technical report ,Office of Evaluation, FAO, Rome,Pp176
5. Ramachandran C 2012. "A Sea of One's Own!"- A perspective on the Gendered Political Ecology in Indian Mari culture . Asian Fisheries Science Spl Issue 25S:17-28.