Dr.Eldho Varghese
Tel: ; Cell:
Email: ,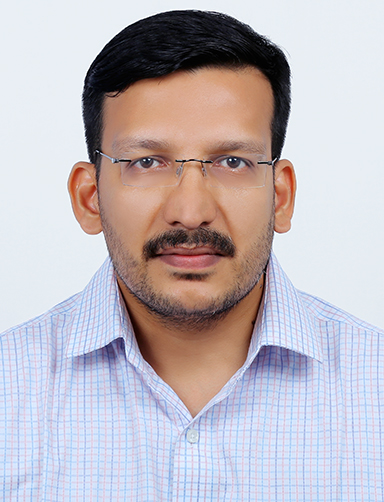 Focus of Research
:
Statistical designs for product and process optimization
Fish stock assessment
Statistical Modelling in Fisheries
Statistical techniques for remote sensing applications in fisheries
Background
:
Joined ICAR- CMFRI in the year 2017. Earlier I was at ICAR-IASRI posted in the division of design of experiments. Worked in the area of cost-effective statistical designs for product and process optimization, designs for competition effects and web generation of experimental designs. Presently working in Fishery Resources and Assessment Division, CMFRI, focusing mainly on monitoring and assessment of marine fish landings along the Indian coastline.
Education
:
PhD (Agricultural Statistics): 2011, Indian Agricultural Research Institute (IARI), New Delhi
MSc (Agricultural Statistics): 2006, Kerala Agricultural University, Thrissur
BSc (Mathematics): 2003, St. Thomas College, Thrissur.
Current Research Projects
FRA/GIS/01- Marine fisheries management advisory development tools on GIS for sustainable harvest from Indian coast
FRA/CHL/02-Chlorophil based remote sensing assisted Indian marine fisheries forecasting system
DEM/RMS/10 – Resource assessment and management framework for sustainable marine fisheries of Andra Pradesh
Awards & Recognitions
:
IARI Gold Medal for outstanding academic performance and meritorious PhD thesis, IARI, New Delhi.
Best poster award in a national conference organized by IPA in 2014, Shimla
Best poster awards for two posters presented in an international conference of ISAS organized at ICRISAT in 2016, Hyderabad.
Associate Editor (Section: Design of experiments), Model Assisted Statistics and Applications.
Best 5 Publications
:
(1) Varghese, Eldho, Bhowmik, Arpan, Jaggi, Seema, Varghese, Cini and Kaur, Charanjit (2016). On the generation of cost effective response surface designs. Computers and Electronics in Agriculture, 133, 37–45
(2) Varghese, Eldho and Varghese, Cini (2015). Variance balanced row-column designs involving diallel crosses incorporating specific combining abilities for comparing test lines with a control line. Communication in Statistics: Theory and Methods 46(5), 2123-2131.
(3) Anjum, Arfa, Jaggi, Seema, Varghese, Eldho, Lall, Shwetank, Bhowmik, Arpan and Rai, Anil (2015). Identification of Differentially Expressed Genes in RNA-seq Data of Arabidopsis Thaliana: A Compound Distribution Approach, Journal of Computational Biology. DOI: DOI: 10.1089/cmb.2015.0205.
(4) Varghese, Cini, Varghese, Eldho, Jaggi, Seema and Bhowmik, Arpan (2015). Experimental designs for open-pollination in polycross trials. Journal of Applied Statistics, 42(11), 2478-2484.
(5) Jaggi, Seema, Pateria, D.K., Varghese, Cini, Varghese, Eldho and Bhowmik, Arpan (2017) A Note on Circular Neighbour Balanced Designs, Communication in Statistics: Simulation and Computation. http://dx.doi.org/10.1080/03610918.2017.1361980