Dr.Boby Ignatius
Tel: 0484 6578058; Cell:
Email: bobyignatius@cmfri.org.in,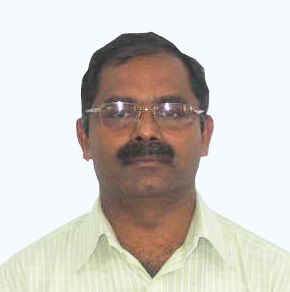 Focus of Research
:
Finfish and shellfish hatchery
Marine finfish farming
Background
:
Joined as a scientist at CMFRI in 1996 after completing post graduation in Aquaculture from College of Fisheries, Panangad (Kerala Agricultural University). Obtained PhD based on the research carried on Octopus biology and reproduction. Initial years focused mainly on molluscan fisheries at Rameswaram area and seed production and pearl production from Pinctada fucata at Mandapam. Presently focused my research on marine finfish breeding and farming.
Education
:
PhD 2005(Marine Biology) Annamalai University
MFSc 1994 (Aquaculture), College of fisheries, Kerala Agricultural University, Panangad
BFSc 1990 College of fisheries, Kerala Agricultural University, Panangad
Current Research Projects
| | | |
| --- | --- | --- |
| No | Title | Funded By |
| 1 | Development and standardization of seed production technologies for selected high value finfishes and shellfishes | CMFRI |
| 2 | Innovations in Sea cage farming & Coastal mariculture | CMFRI |
| 3 | Aquatic feed biotechnology for mariculture and aquariculture | CMFRI |
Best 5 Publications
:
I. Jagadis, Boby Ignatius, D. Kandasami and M. D. Ajmal Khan, 2011. Larval rearing trials of the honeycomb grouper Epinephelus merra Bloch under laboratory conditions. Indian J. Fish., 58(4) : 33-37, 2011
II. Imelda Joseph, shoji Joseph, Boby Ignatius, G. syda rao, K.S. Sobhana, D.Prema and Molly Varghese, 2010.A piolet study on culture of asian seabass lates calcarifer (Bloch) in open seacage at Munambam, cochin cost, India. Indian J. Fish., 57(3): 29-33.
III. Vijayagopal, P and Chakraborty, Kajal and Iyapparajanarasimapallavan, G and Anil, M K and Ignatius, Boby and Correya, Neil Scholastin and Vijayan, K K (2012). Development of live feed enrichment product for marine fish larviculture. Indian Journal of Fisheries, 59 (2). pp. 121-125.
IV. Boby Ignatius, M. Srinivasan, and S. Balakrishnan, 2011. Reproductive Traits of Sandbird Octopus, Amphioctopus aegina (Gray, 1849) from Mandapam Coastal Waters (Palk Bay), Southeast Coast of India. Ocean Sci. Journal: 46(3):145-154
V. Gopakumar, G and Madhu, K and Madhu, Rema and Anil, M K and Ignatius, Boby (2011) Marine Ornamental Fish Culture – Package of Practices. CMFRI Special Publication (101). pp. 1-100.