Shri.Ambarish P. Gop
Tel: ; Cell:
Email: Ambarish.gop@icar.gov.in, gopidas.ambarish@gmail.com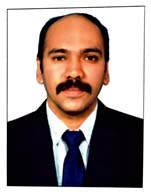 Background
:
After persuing B.F.Sc degree from College of Fisheries, Panangad, Kochi during 2004-2009 and M.F.Sc. (Fisheries Resource Management), from CIFE, Mumbai during 2009-2011, I was working in a fish exporting company at Kingdom of Bahrain. I am working in CMFRI since 2016. In the division I am working on open sea cage farming and marine finfish breeding. I have interests on hatchery technologies of marine finfishes.
Education
:
MFSc from CIFE, Mumabi; PhD scholar in KUFOS,Kochi

Current Research Projects
Innovation in sea cage farming and coastal mariculture.

Development and standardization of seed production technologies for selected highvalue finfishes and shell fishes.

All India Network Project- Mariculture

Enhanced production of farmed pompano through the establishment of broodbank and supply of larvae to states for seed production.