Dr.Akhilesh K. V.,
Tel: ; Cell:
Email: akhikv@gmail.com,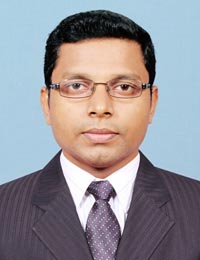 Focus of Research
:
Fish Taxonomy
Fishery biology and stock assessment of marine fishes.
Elasmobranch resources – taxonomy and fishery biology
Fisheries resource management and conservation
Background
:
Completed Masters in Marine Biology and Ph. D in Marine Science (CUSAT, Kerala) on the research topic Deep-sea elasmobranchs. Present research focus is on understanding the diversity, fishery and biology of elasmobranchs in the Indian EEZ, their sustainable management and conservation. Other research interests are; taxonomy, biogeography, fisheries resource assessment, ecology, conservation biology and management of demersal fishery resources.
Education
:
Ph.D (2015) Marine Science, Cochin University of Science and Technology, INDIA
M.Sc (2007) Marine Biology, Cochin University of Science and Technology, INDIA
B.Sc (2005) Zoology, Calicut University, INDIA
Current Research ProjectsAssessment of elasmobranch resources in the Indian seas -ICAR-CMFRI Development of fishery management plans for sustaining marine fisheries of Maharashtra -ICAR- CMFRI Outreach activity on fish genetic stocks- ICAR- CMFRI
Awards & Recognitions
:
NUFFIC International Fellowship, Wageningen International, Netherlands. 2011
Member, IUCN Shark Specialist Group