Dr.Prathibha Rohit
Tel: ; Cell:
Email: rohitprathi@yahoo.co.in,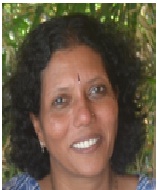 Role
:
Principal Scientist & Head
Focus of Research
:
Marine fisheries of Karnataka and Goa
Pelagic Fisheries management
Mariculture and marine biodiversity of Karnataka
Background
:
After taking masters in CAS in Mariculturein 1984 and PhD in Biosciences I am working in CMFRI since 1986 on pelagic fisheries,mariculture and extension of technologies. I currently head the Mangalore Research Centre of CMFRI. I have worked onunderstanding small and large pelagic fishes and their population dynamics at regional and national levels. In mariculture, the technique of crab fattening was introduced for the first time in Karnataka and engaged in popularization of bivalve farming in Dakshina Kannada and Udupi Districts of Karnataka.
Education
:
PhD 2002Mangalore University
MSc 1984Cochin University
BSc 1982 Zoology, University of Kerala
Current Research Projects
| | | |
| --- | --- | --- |
| No | Title | Funded By |
| 1 | Development of fishery management plans for sustaining marine fisheries of Karnataka and Goa. | CMFRI |
| 2 | Development of strategies to sustain stock and fishery of large pelagics of the Indian Coast | CMFRI |
| 3 | GIS based resources mapping of distribution and abundance of finfishes and shellfishes off Indian Coast for suggesting operational based strategies for fisheries management | CMFRI |
| 4 | Remote sensing assisted bio dynamic forecasting paradigm for Indian Marine Fishery Resources | CMFRI |
| 5 | Satellite Telemetry studies on Migration patterns of Tunas in Indian Seas(SATTUNA). | INCOIS |
| 6 | Flow of Matter through tropic levels and biogeochemical cycles in Marine and Estuarine ecosystems, under the National Programme "Sustained Indian Ocean Biogeochemical, Ecological Research (SIBER) and Geotraces | MoES/CMLRE |
Awards & Recognitions
:
2010-2015 Chairperson of Indian Ocean Tuna Commission Working party on Neritic Tunas.