Dr.Grinson George
Tel: +91 484 2394312 ; Cell:
Email: grinsongeorge@gmail.com,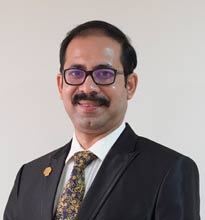 Focus of Research
:
Fisheries Oceanography
Marine Ecosystem studies
Climate change issues in marine science
Background
:
Graduated in Fisheries Science with KAU merit scholarship from Kerala Agricultural University during April 2000. Completed Masters in Fisheries Resource Management from CIFE Mumbai in August 2002 with ICAR Junior Research Fellowship. Taught fisheries for an academic year (2003) under Ministry if Education, Republic of Maldives during 2003. Qualified CSIR-JRF in Life Science and completed PhD in Marine Science from NIO, Goa University. Joined CIARI, Port Blair as Scientist in June 2005. Later joined as Senior Scientist at CMFRI, Kochi. Presently working on Marine fisheries productivity and climate based changes in marine resources.
Education
:
PhD (Marine Science) 2011 National Institute of Oceanography, Goa University
MFSc 2002 Fisheries Resource Management, CIFE, Mumbai
BFSc 2000 Kerala Agricultural Univeristy
Current Research Projects
| | | |
| --- | --- | --- |
| No | Title | Funded By |
| 1 | GIS based management advisory support information system for the marine fisheries sector - FISHCMFRISIL201200100001 | CMFRI |
| 2 | Remote sensing assisted biodynamic forecasting paradigm for Indian marine resources - FISHCMFRISIL201200200002 | CMFRI |
| 3 | Development of Fishery Management Plans for sustaining Marine Fisheries of Tamil Nadu and Puducherry - FISHCMFRISIL201200800008 | CMFRI |
| 4 | National Initiative on Climate Resilient Agriculture - Marine Fisheries | NICRA, ICAR |
| 5 | Application of remote sensing to study the structure and function of the marine ecosystem, including fisheries | JNSF |
Awards & Recognitions
:
Mar 2014 Best Paper Award CCME-2014 AT CUSAT
Dec 2012 PFGF Best PhD Thesis
Dec 2011 Best Paper Award - 9th Indian Fisheries Forum at Chennai
Mar 2011 Best Paper Award TIECON 2011
Jul 2010 Dr.Rajendra Prasad Puraskar for best scientific book, ICAR New Delhi
Best 5 Publications
:
1. Grinson George, Dattesh V. Desai, Chetan A. Gaonkar, V.M. Aboobacker, P. Vethamony, Arga Chandrashekar Anil: Barnacle larval transport in the Mandovi–Zuari estuarine system, central west coast of India. Journal of Oceanography 08/2013; 69(4):451-466.
2. Chetan A. Gaonkar, Samiksha S.V, Grinson George, Aboobacker V.M, Vethamony P, Arga Chandrashekar Anil: Numerical simulations of barnacle larval dispersion coupled with field observations on larval abundance, settlement and recruitment in a tropical monsoon influenced coastal marine environment. Journal of Marine Systems 01/2012; 94:218-231.
3. George G, Meenakumari B, Mini Raman, Sriivasakumar T, Vethamony P, MT Babu, Verlecar X: Remotely Sensed Chlorophyll: A Putative Trophic Link for Explaining Variability in Indian Oil Sardine Stocks. Journal of Coastal Research 01/2012; 28(1A):105-113.
4. G. George, P. Vethamony, K. Sudheesh, M.T. Babu: Fish larval transport in a macro-tidal regime: Gulf of Kachchh, west coast of India. Fisheries Research 04/2011; 110:160-169.
5. Boban Subhadra, Grinson-George,: Algal biorefinery-based industry: an approach to address fuel and food insecurity for a carbon-smart world. Journal of the Science of Food and Agriculture 01/2011; 91:2-13.